Nov 21, 2010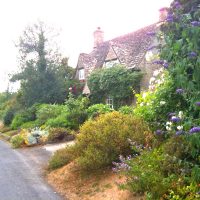 Tip 27 – Start with the dream
Minster Lovell is a village and civil parish sited on the River Windrush about 2.5 miles west of Witney in Oxfordshire.
Minster Lovell is actually comprised of three parts – Old Minster, Little Minster and New Minster.
Old Minster includes the Church of England parish church of Saint Kenelm, the ruins of Minster Lovell Hall and the Mill and Old Swan Inn.
A large part of New Minster is the Charterville Allotments, which were founded by the Chartists in 1847-52.
It is the third and largest of the Chartist estates with 300 acres divided into 80 smallholdings with small cottages.
The main village thoroughfare is a single street with numerous pretty thatched cottages beside a small stream.
There is also a popular cricket pitch beside the river Windrush and an old stone bridge where you can sit and watch the abundant wildlife.
Everything that man has constructed started with a simple inner vision or a dream. Dreams are important because they are the seed of a mighty creative force that we should harness in order to turn our dreams into reality.
iPhone visitors – Listen to the podcast HERE
[fb_like]
This Tip is featured in our Audio Book Tip Tours Volume 1