Nov 7, 2010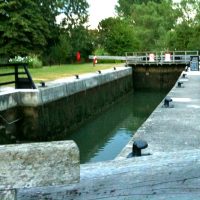 Tip 10 – Depend on no-one but yourself
Buscot Lock is a quaint spot on the upper Thames much loved by the boating fraternity being the smallest of the 45 locks on the Thames.
The manual beam-equipped pound lock was built in 1790, although today it looks just as it did more than 200 years ago.
Before the lock was built, there was a flash weir, where boats would 'run the rapids' downstream though today transitioning the lock is a much more sedate affair.
The lock was purchased as part of the Edward Loveden family estate in 1859 by Robert Tertius Campbell with money acquired in the Australian goldfields.
He fitted water wheels to irrigate his estate, but sold up within 10 years. Later owners, Thomas Cook, the travel agents, gave the site to The National Trust.
Today it is a popular place for walkers, fishermen and narrow boat enthusiasts with well tended gardens and a wonderful sense of tranquillity.
Being a Lock-keeper might seem a lonely existence until you start thinking about the benefits. If you are someone who has learned the secret of depending on no-one but yourself then you are in possession of a powerful and resourceful tool that can change lives.
iPhone visitors – Listen to the podcast HERE
[fb_like]
This Tip is featured in our Audio Book Tip Tours Volume 1