Oct 24, 2010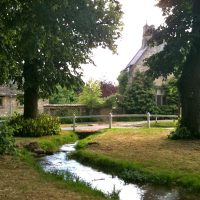 Tip 15 – Work Rest and Play
Swinbrook is a quiet Cotswold village just a few miles from Burford, famous for the striking 17th century Fettiplace Monuments in the small church. It is a tranquil, unspoilt village with many pretty cottages of warm-toned stone. There is a village pub beside the stunning River Windrush, an ancient bridge and a lovely cricket pitch.
A very small green sits before the village hall and a few steps up the road from the hall, a set of stairs leads up to the small parish church of St Mary the Virgin.
Beyond the church is the grave of novelist Nancy Mitford, author of "Love in a Cold Climate". But it is within this unpretentious exterior that real delight awaits the visitor.
The holders of the manor of Swinbrook during the 17th century were the Fettiplace family, who were at that time one of the biggest landowning families in Oxfordshire and Berkshire.
The Fettiplaces left a set of two striking wall tombs for posterity. Each tomb shows three male Fettiplaces, recumbent,and looking anything but comfortable, upon stone or marble shelves. Both tombs date to the 17th century.
Swinbrook village is the archetypal English village where people have worked, rested and played for centuries and continue to do so to this day.
iPhone visitors – Listen to the podcast HERE
[fb_like]
This Tip is featured in our Audio Book
Tip Tours Volume 1