Oct 3, 2010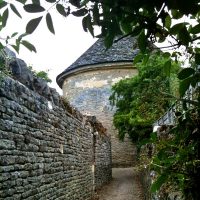 Tip 32 – Plan it then do it!
Between the pretty village of Minster Lovell and the ruins of Minster Lovell Hall beside the river Windrush stands the iconic Minster Lovell Dovecote.
This splendid example of a medieval dovecote has survived the centuries better than the main hall and is today complete with hundreds of nesting boxes in which doves and pigeons were raised to provide a regular supply of food for the tables of the lords and ladies of Minster Hall.
Standing beside rolling pastures the ancient dovecote has a peaceful and timeless feel to it and is the perfect picnic spot with the river nearby and the ruins to explore.
The people that built this wonderful dovecote were clearly planning ahead and that is a lesson we can all learn in our lives.
Planning ahead means we are in control of our circumstances rather than a victim of them.
(Click here to read the Tip we recoded at Minster Lovell Hall)
iPhone visitors – Listen to the podcast HERE
[fb_like]
This Tip is featured in our Audio Book
Tip Tours Volume 1