Oct 10, 2010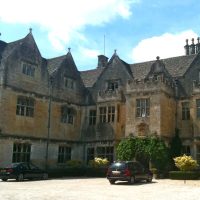 Tip 14 – Acquiring Perspective and Balance
Bibury Court Hotel is a stunning eighteen bedroom Jacobean Mansion that dates from Tudor times.
Set in six acres of beautiful gardens a stone's throw from Bibury village and with the trout-rich river Coln flowing through its grounds Bibury Court Hotel is the perfect place for a cream tea or a stroll beside the river.
With a popular restaurant that won the Cotswold Life magazine 'Restaurant of the Year' award in 2007 and the perfect rural location it is a true Cotswold gem.
This wonderful building is the epitome of architectural perspective and balance and serves to remind us of how important it is to bring perspective and balance into our own lives.
iPhone visitors – Listen to the podcast HERE
[fb_like]
This Tip is featured in our Audio Book
Tip Tours Volume 1